Two Maids & A Mop is closely following the rapidly developing COVID-19 outbreak. The health and safety of our team members and clients is our first priority.
At this time, we are continuing to provide cleaning services to our clients. We have implemented extended measures to further ensure the health and safety of our team and customers.
We are communicating with our staff daily and ensuring that if employees are sick or showing symptoms of illness, they will stay home. We will continue to educate our team on best practices for effective sanitation and hygiene, and we are checking in proactively with all clients to confirm no one in the household is showing symptoms ahead of cleaning appointments.
Prior to entering your home, we will clean and disinfect all equipment, supplies and towels with a disinfectant spray. Our field managers will continue to inspect quality during cleaning and make sure that cleaning guidelines are being adhered to, and our high cleaning standards are met. Towels and other cleaning materials are bleached and washed thoroughly in a hot water machine cycle, daily.
As we continue to monitor the situation, we will aim to respond swiftly and accordingly to guidelines set by local, state and federal authorities, and provide timely updates to our customers.
Staying healthy is everyone's full-time job — and we are here to help with that.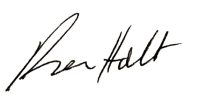 Ron Holt
CEO/Founder of Two Maids & A Mop